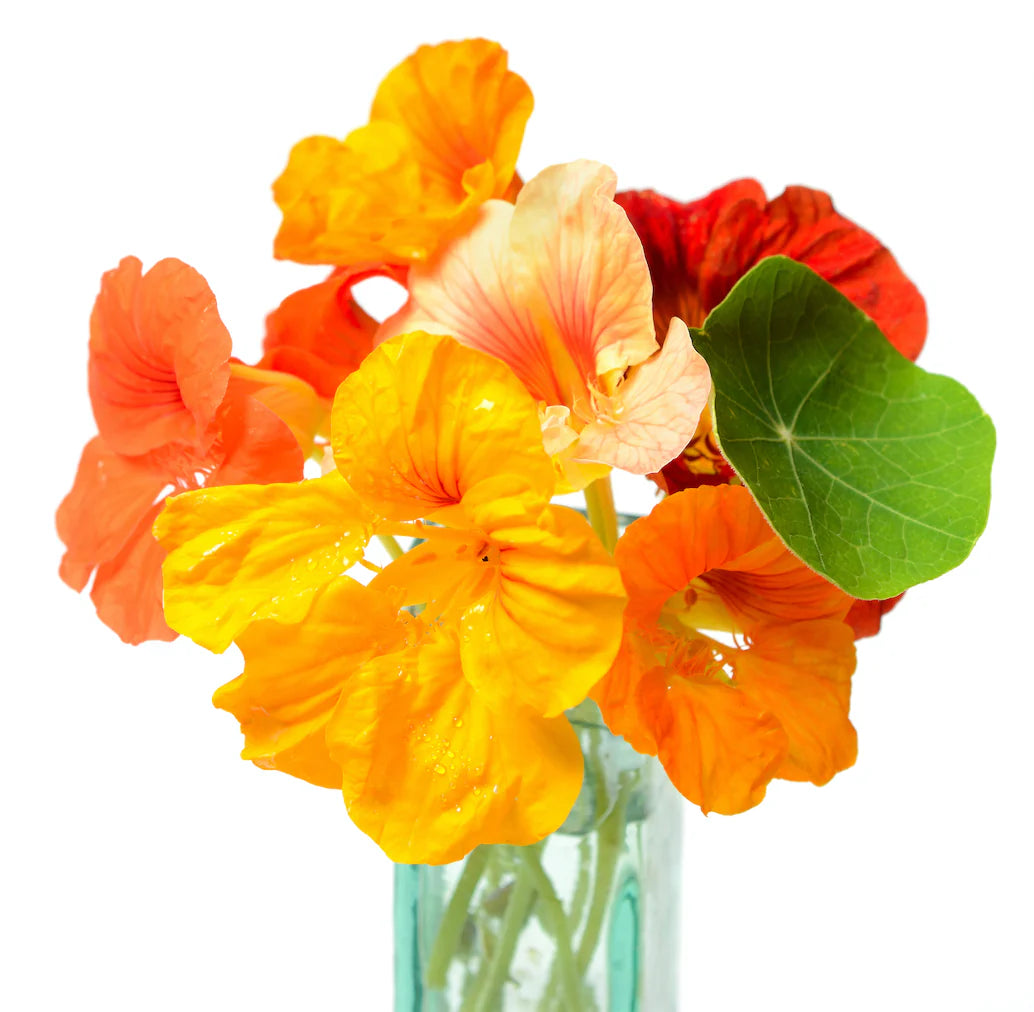 Dwarf Jewel Nasturtium Mix - Tropaeolum majus Seeds
Organic Dwarf Jewel Nasturtium Mix Seeds
Originally from South America, Nasturtiums represent victory through a battle and conquest. This gorgeous flower will not only add beauty to a garden and flower arrangements, but its pedals are edible and will add spark to any salad. Both the leaves and flowers are edible.

For early blooms, nasturtiums can be planted indoors  3 - 6 weeks before last spring frost or can be directly sowed into the ground after all frost has passed.  Plant 1/4" deep in sandy, well draining soil, cover with soil and sprinkle with water.   Nasturtiums thrive in full sun and can tolerate some shade. File seed before planting. This annual prefers poor soil and will produce less blooms in good  soil.  Adding amendments or fertilizer will encourage foliage instead of blooms. Germinating after 10 -14 days, it will reach heights of 12".  If transplanting, wait until plants have reached 2" - 3".    Always keep soil moist when seeds are germinating.

Offering 3" blooms in shades of peach, pink, yellow, orange and red and blooming all summer long.  This dwarf variety makes it ideal for containers and garden beds.
Indoors: 3-6 weeks before last frost
Direct Sow: After last frost
Growing Tips:
Scarify seed before planting. Prefers poor soil and produces less blooms in good soil. Amendments will encourage foliage instead of blooms. If transplanting, wait until plants have reached 2"-3". Self-seeds.
If starting seeds indoors, it is key that your new starts be hardened off.  This is a process that requires taking them outside during the day, for a period of time, before they are planted. This acclimates your seedlings to the outside world, meaning the elements like the wind and sun. We do it for several weeks to a month as this strengthens their stems and overall plant structure. 
Start for a short period of time initially, then graduate to more time each day
One week minimum is recommended
Bring them inside in the early evening and overnight
Keep an eye on them and constantly water them. Make sure they have not blown over.